We are living in a compact world where efficiency is the name of the game. Space per employee will continue to shrink over time, but collaborative work environments don't have to. In today's workplaces, employees are constantly on the move, making it hard to catch the co-worker you have been waiting to meet. One of the biggest factors that contribute to the success of any business is whether its employees can perform together as a team. Encouraging creativity in the office, improving productivity and promoting healthy employee relationships have become extremely important values in the workplace. These values can be achieved through collaboration.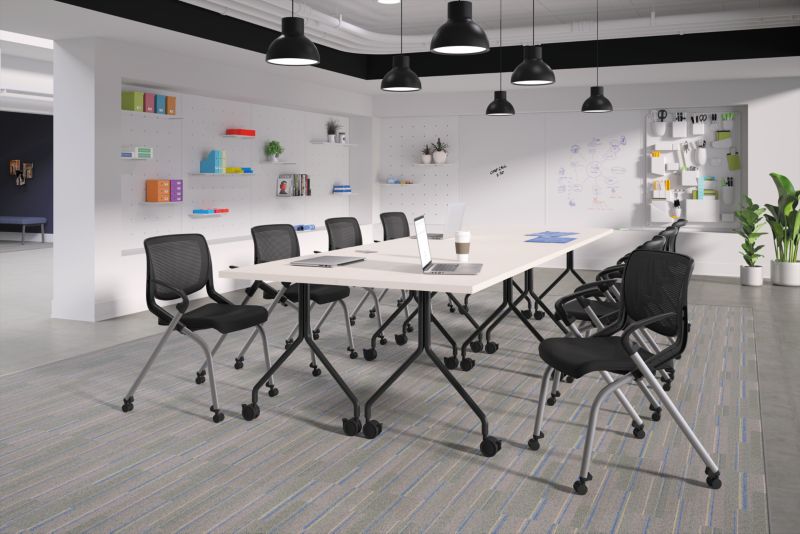 Collaboration takes place when two or more individuals work together to achieve a common goal. Working in teams allows employees to be quicker and more effective in their work resulting in increasing motivation levels. Essentially, teamwork and collaboration coincide with your business' success.
Benefits of Workplace Collaboration
Employee Skill-Building: When working together and given an equal opportunity to share, employees can learn from each other and pool together their talents and strengths.
Faster-Paced Innovation: Diverse viewpoints from your team members will make problem solving easier giving you the ability to bring products to market faster.
Employee Satisfaction: Encouraged collaboration creates an environment where employees feel valued for their individual skills and input. Happy employees positively impact company culture, and this leads to increased retention of quality talent.
Allows individuals to see the 'big picture": Working with others enables new ideas and a better understanding of how your work impacts the larger business goals. This sense of purpose provides value by giving employees a meaningful reason to work together.
Increased Profitability: The bottom line, of course. Collaboration improves profitability because after recruiting all the superstar geniuses and building a culture of diverse skills, they get to generate innovative ideas that will propel business forward. In the end, everyone will be happy.
The Between table will help you take a step in the right direction and make collaboration for your team easy! With a variety of shapes, bases, and heights to choose from, collaboration is possible whether you're here, there, or everywhere. Between always has you covered.
With Between, employees will collaborate, and ideas are guaranteed to spark!