Part-time solutions, full-time comfort. Choose this chair with flip-up seat for easy storage when you don't need it. But when you are using it, rest assured you'll be supported by a back design that flexes with your spine.
Product Info
Overview
Specifications
Functions
Images
Warranty
Perpetual Nesting Chair
Perpetual Seating by HON provides versatile part-time solutions with full-time comfort. The nesting models feature space-saving flip-up seats, so you can tuck them away when you don't need them. Perpetual lounge seating adapts to almost any lobby or public space application, featuring modular design to reconfigure easily.
Provides outstanding individual comfort for all-day meetings
Torsion-elastic backrest reclines up to five degrees for added comfort
Underside of seat is fully covered to look good when chairs are nested
Flip-up seat allows chairs to nest for high-density storage and transport
Tubular steel frame provides years of reliable performance
Very popular for collaborative settings where people need to move within or between work areas
View the Perpetual Collection
Will it fit in my office? Will it even fit my needs? Before buying, you need to know all the measurements, features and details.

What's the best seat in the house? The one that adjusts to fit your body like a glove. HON chairs are designed to cradle your spine and follow your lead, with all the bells and whistles you need to stay on task and in style.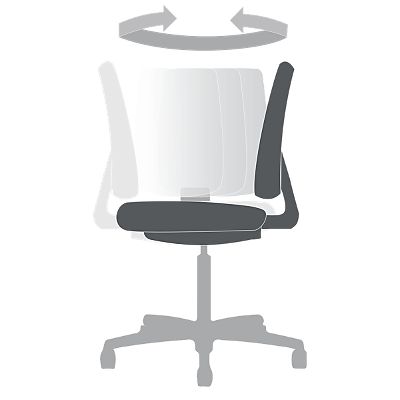 360-Degree Swivel
Provides freedom of movement in any direction.
We aren't all interior designers with the ability to visualize a product in various environments. The following images will give you ideas on how to make the most of your HON products, as well as bring a variety of aesthetic options to life.
Backed by the HON Full Lifetime Warranty
Warranties are not usually exciting reading material. But we think the HON Full Lifetime Warranty is something special in our industry. It's not that we've worked hard on the warranty itself. Instead, we've worked hard to make it easy to warranty our products. Here is how we can provide and stand by what we believe to be the best warranty in the office furniture industry:
We know what we're doing and do it better than anybody else.
At HON, we are committed to being good listeners and producers. Through our "Voice of the Customer" process, we spend time listening to the people who make businesses go, observing how they work, and learning what they need to be successful. The right products don't wear out, break or malfunction. They just work, and that makes them easy to stand behind.
We let practicality inspire us.
HON designers, engineers, and production people are inspired by practicality. Our office furniture solutions must be functional and effective. We test them in real offices. We have always and will always make tough, enduring products that look good too, because that's what makes sense for our customers.
We are empowered. We are ready.
Every HON member is empowered to serve our customers. Every one. We know that loyalty is a product of performance. It's a matter of making and keeping promises. That's how we keep customers for life. That's what makes us stand out in our markets.
Our warranty is our promise. So it has to be on-the-mark.
We're confident in the value, quality, and durability HON products deliver. If they fail, we give their owners the choice to replace any product that can't be repaired with something comparable, or we refund their purchase price—and we do not mean a prorated refund, we mean a full refund no matter how much the product was used.
Waiting for the fine print? Don't. There is none.
We don't feel our warranty should have fine print because we want it to be clear, concise and easy to understand—just like the products we make.
Not sure which chair is right for you?
Take our Chair Matcher Quiz and find the perfect one for you!
Other Products That Complement This Chair
Other Products In This Collection
Similar Chairs You May Like