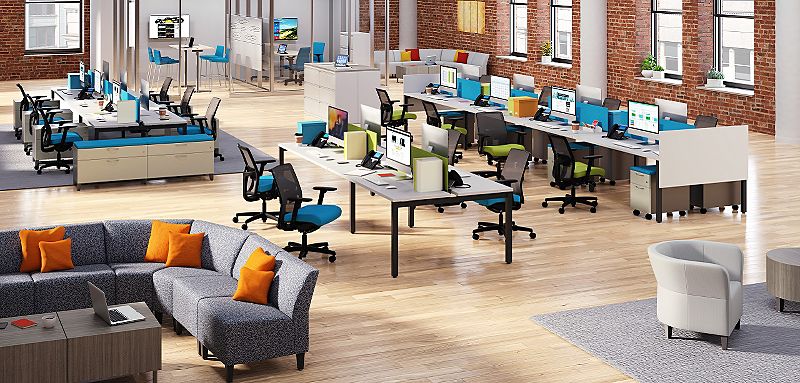 Trend 3
SMALL AND LARGE FIRMS ARE CREATING OFFICES WITH AN OPEN FEEL TO FACILITATE COLLABORATION
Research shows that physical openness encourages collaboration. Many companies want an open office feel to inspire collaboration and fuel creative thinking.
OFFICE ECOSYSTEMS
OFFICE ECOSYSTEMS
Research proves that employees are more productive when they have a variety of places or "ecosystems" to work in— private spaces for focused work, as well as open areas to relax and socialize between projects or during breaks.
OFFICE LAYOUT
Findings from the study show that many designers for small office spaces strategically plan their layouts to incorporate collaborative spaces such as lounges, meeting rooms and huddle rooms. Many of today's companies are using less space for archival storage which frees up room for more collaborative areas.
LESS WALLS = MORE COLLABORATION
Continued advances in technology allow more and more businesses to take down walls and create open workspaces that improve teamwork. Because cubicles remain a fixture in some workplaces, office designers often recommend lowering the heights of separation panels and using shared work surfaces instead of individual desks to encourage collaboration. Glass panels can also give an open feel while providing a sense of privacy.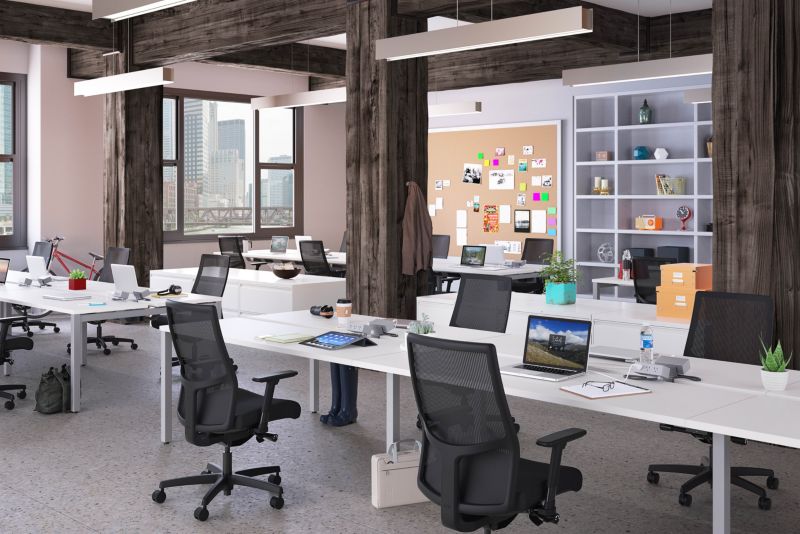 THE IMPORTANCE OF HAPPY WORKERS
THE IMPORTANCE OF HAPPY WORKERS
Only 13% of employees today feel engaged at work—which means a staggering 87% are unhappy and disengaged.
Workers are 12% more productive when they're happy and 10% less productive when they're not.
This drop in productivity costs US companies between $450-500 billion annually.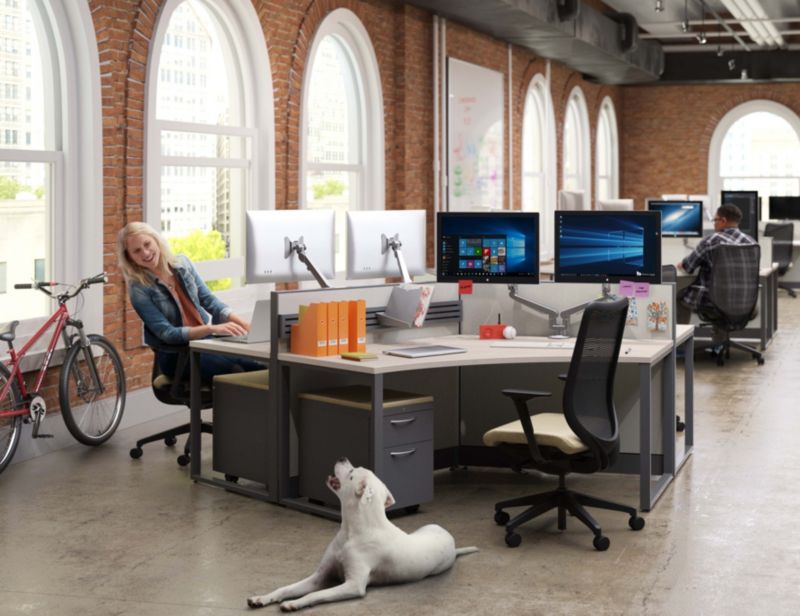 DEDICATED SPACE
DEDICATED SPACE
According to study findings, one big difference between small and large offices is the amount of floor space the organization has to incorporate collaborative spaces. Large offices typically have more room for dedicated meeting areas, whereas small offices are often more constrained.
HUDDLE ROOMS & PHONE BOOTHS
These rooms provide a private space for employees to focus quietly or make personal phone calls. "With larger floor plans, I usually recommend some kind of lounge area with soft seating for a huddle room or break-out space. For smaller firms, though, every square foot counts—it becomes a matter of decreasing the amount of separation between workspaces and clustering groups of workstations together instead of scattering them around the room."
STADIUM SEATING
Employees view stadium seating as "a fun, less stressful, less workseeming area" for people to sit and work alone or in groups. This type of seating is usually constructed in large, tiered, seat-like steps or put together with individually purchased modular components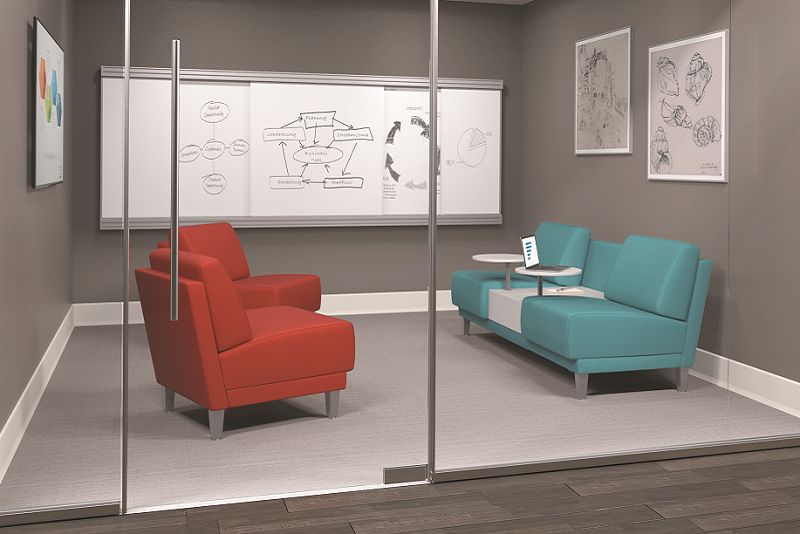 Explore Trends